How Does the Twitch Affiliate Payout Work?
Getting paid by Twitch is a pretty straightforward process. Once you're part of the Affiliate Program and generate a minimum $100 in revenue — either from subscription bumps or accumulated Bits — Twitch will issue a payment.
You can set that up to a checking account, a PayPal account, or even a standard check. But first you'll need to provide tax information since you will be, in some regards, almost like a freelance employee.
It typically takes between three to five days to receive a payment from Twitch, and if you ever want to change your payout method, you can do that in the "Onboarding Info" section by choosing the "Change Payout Method" tab.
For more context, let's take a closer look at what it means to join Twitch's Affiliate Program.
Video
How to Make Money on Twitch Without Being a Partner
Let me give it to you straight: If you've just started streaming, it can be incredibly difficult to earn money on Twitch. 
For starters, you can't make money from subscriptions, Twitch Bits, game sales, or ads until you become a Twitch Affiliate or Partner. Plus, it's virtually impossible to make money from sponsorships or merchandise until you have a large following.
However, if you want to know how to make money on Twitch without being a Partner, there are 4 ways to get started while you grow your following:
Donations

Patreon

YouTube

Affiliate marketing 
Let's take a closer look at each of them.
YouTube
By uploading the best parts of your streams to a YouTube channel, it's possible to start earning a little money from YouTube ads.
For example, you could upload game compilations, interesting or funny clips from your streams, or even new content.
Just like Twitch, it can be pretty challenging to make money on YouTube. However, uploading videos to YouTube has another key benefit: it's a great way to attract new followers to your Twitch streams.
Why?
Well, Twitch doesn't offer streamers many ways to attract new viewers. However, YouTube has comprehensive search features, related video suggestions, and even personal recommendations for viewers.
This is why all top Twitch streamers also share regularly on YouTube. For instance, the popular Twitch streamer Ludwig Ahgren posts a new YouTube video every day:
Patreon
Figuring out how to make money on Twitch is tough when you don't have many followers. Plus, you can't take advantage of Twitch subscriptions until you become an Affiliate.
However, if you have a few regular viewers who love your streams, you can incentivize them to donate money to you each month on Patreon in exchange for rewards that you create. 
For instance, you could offer exclusive video content for patrons or share top gaming tips and tricks.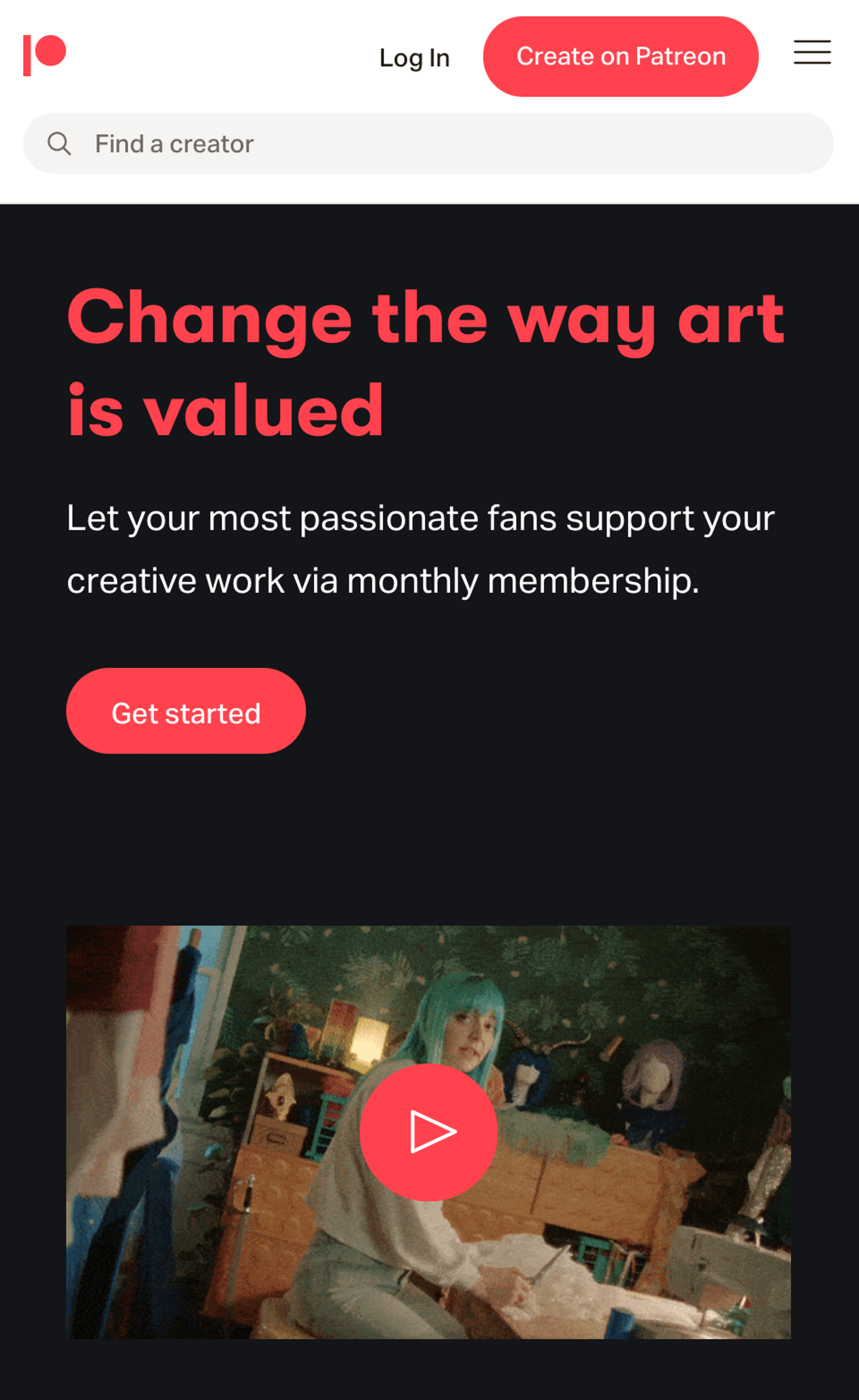 Make sure to add a link to your Patreon page in your Twitch profile description and promote your Patreon rewards to viewers during streams.
Can you lose twitch affiliate?
Yes, it is possible to lose Twitch Affiliate status. The main ways streamers lose affiliate is due to harassing viewers or other streamers, playing banned games, or multi-streaming on other platforms. Twitch affiliates sign a contract that clearly defines conditions they must comply with.
Income Sources Available to Twitch Affiliates and Partners Only
If you wish to join the Twitch Affiliate Program, you need to meet the following criteria:
Stream for at least eight hours in the last 30 days

Steam on at least seven days in the last 30 days

Receive an average of three viewers per stream

Grow your audience to 50 followers
If you meet these criteria, Twitch automatically invites you to become an Affiliate.
Twitch offers you a few additional earning opportunities as an affiliate. These are still available should you manage to make the jump from Affiliate to Partner.
Twitch Bits
Twitch Bits are effectively mini-donations from viewers. They pay for them using either Amazon Payments or PayPal. Bits are a type of virtual currency that gamers can "spend" on their favorite gamers' sites. Twitch pays their Affiliates and Partners one cent for every Bit fans use on their channels.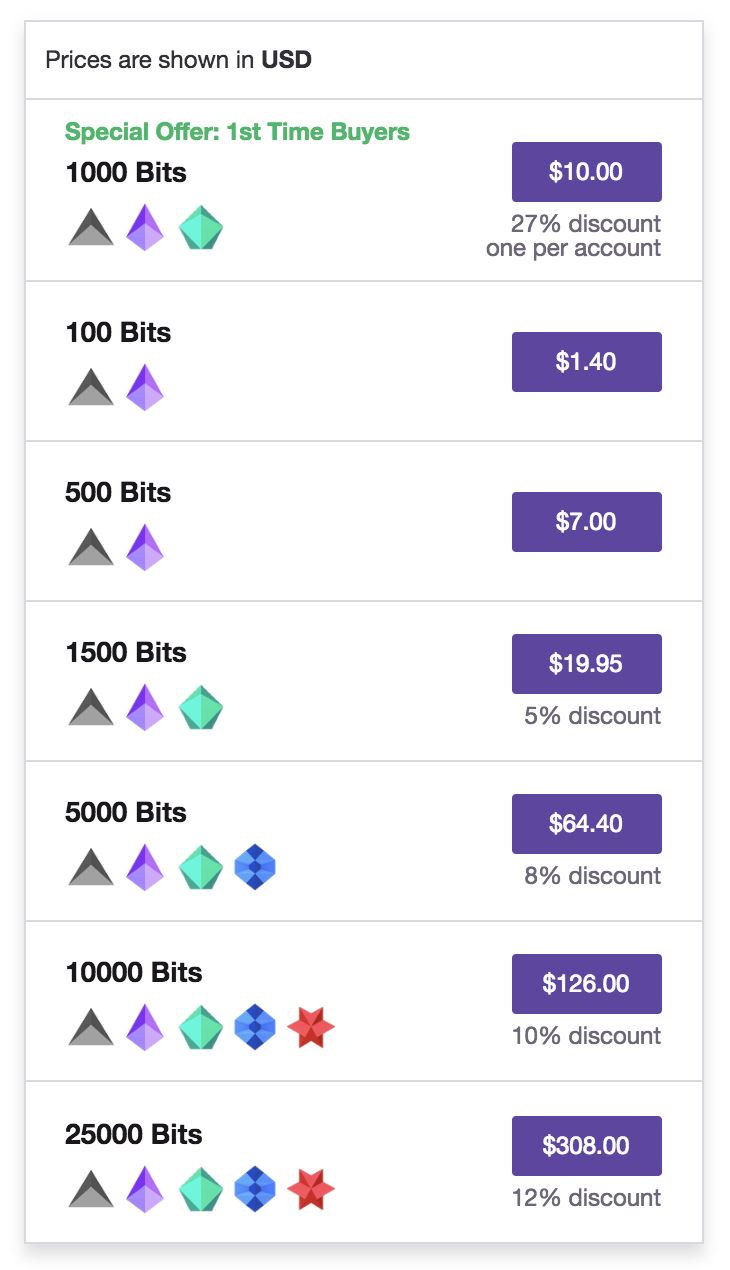 A viewer can Cheer with his Bits. When a viewer Cheers, he uses his Bits to pay for the right to participate in a chat on a particular gamer's chat channel. He can also use Bits to buy emotes he can use in the chat – with the bigger, more animated emotes costing more Bits. A viewer earns a Cheer Chat Badge in any gamer's chat channel in which he participates. The more a viewer chats in a channel, the more Bits he spends, and over time he can earn a better Cheer Chat Badge.
You can set the minimum number of Bits needed to send a Cheer message in your channel, so people don't spam your chat with multiple uses of single Bits. Likewise, you can set the smallest emote somebody can use in your channel.
You can also add a StreamLabs Tip Jar widget to your stream. This shows an image of an empty glass filling up as people use Bits on your channel. This helps encourage your followers to use more Bits to "fill up" your glass.
Twitch Subscriptions
Twitch Subscriptions provide a recurring income to streamers. You can encourage your followers to subscribe to your channel for either $US4.99, $9.99 or $24.99 per month. The money collected is split 50/50 between Twitch and the streamer (although a few top streamers have been able to negotiate a higher percentage).
As soon as you sign up as an Affiliate or Partner, a Subscribe button will automatically appear on your page.
Streamers can set up alerts to encourage gamers to subscribe. These are signs that pop up on the screens saying that somebody has bought (or renewed their subscription) to your channel. These are particularly popular with Twitch users who love to see their name on their favorite gamer's page.
How Long Does It Take For Twitch Money To Go Into Paypal?
It can take between 3 and 5 business days for payouts to be processed. It can take longer for you to receive your payout if you are working over the weekend or on public holidays. Please review the Payout History page if you are unsure whether a payout will be processed on the 15th of the month.
What Is The Best Payment Method For Twitch Affiliate?
Direct deposit of payouts via ACH: This method deposits your payout directly into your bank account within one to four days, making it one of the fastest methods.
Non-US Affiliates can now use the local bank payout method or eCheck.
PayPal.
How to Build an Audience on Twitch
If you really want to know how to make money on Twitch, it all comes down to this: grow a sizable audience.
Let me be honest: This takes an enormous amount of time and work — and even then, success is far from guaranteed.
Still, how can you build a community and increase your Twitch viewership? Here are 4 best practices to follow.
1. Find Your Niche
To attract attention, you need a way to stand out from the crowd. So, look for ways to carve out a niche for yourself. 
For example, perhaps you become an expert at a new game that's growing in popularity. Or maybe you're not the best gamer, but you're witty and fun. 
2. Build a Following on Other Social Media Accounts
Compared to many social media platforms, Twitch offers very few ways to promote your streams. So, venture out to other platforms to build an audience.
For example, you could build your audience on YouTube or grow an Instagram following. Then you can promote your Twitch streams to your followers.
Take Real Summit1g — he often shares stream highlights on his Instagram account:
3. Network with Other Streamers
Networking and supporting other ambitious and popular streamers is a great way to generate new opportunities.
For instance, if you engage with another streamer and are active in their chat, the streamer and their viewers may visit your channel and follow you.
Plus, if you build friendships with other streamers you can plug each other's channels and host each other. This will help cross-pollinate your audiences and attract new viewers.
4. Engage Viewers
Whenever a new viewer joins your stream, you have a golden opportunity to convert them into a true fan who'll subscribe and promote your stream to their friends.
So, engage them in every way you can.
Ask viewers questions, respond to chat comments, crack jokes — ultimately, create highly entertaining content to get viewers to tune in regularly.
8 Ways to Make Money from Your Twitch Channel
Twitch has a huge user base, and many popular streamers earn money using Twitch. So if you're asking yourself how do you make money on Twitch, we'll explore some of the possible ways you can use your Twitch channel to increase your income.
1. Become a Twitch Affiliate
One of the primary ways to generate revenue on Twitch is through the Twitch affiliate program. As long as you're streaming regularly (at least seven days with three concurrent viewers or more as a minimum), you can become a Twitch affiliate. As an affiliate, you can make money from certain games and game sales or via Twitch Bits.
If you are streaming regularly and able to increase your Twitch affiliate status, Twitch affiliates are rewarded by entering the Twitch partner program. It works similarly to the affiliate program, but Twitch partners gain access to additional perks and monetization opportunities.
2. Brand sponsorships
Many popular Twitch streamers have brand sponsorships that enable them to make money streaming. These sponsorships can take different forms depending on what the sponsor would like. For example, the sponsorships could include selling games and in-game items and working with game developers to create exclusive content and more.
3. Ad revenue generated during streams
Twitch streamers can also make substantial money from running ads on their Twitch streams. Twitch ads include video ads, such as pre-roll and display ads that viewers see during the stream. When streamers run ads during their content, they receive a percentage of the advertising revenue.
4. Create a Twitch store
You can also create your own merchandise that you can sell in your store to earn more money. This gives you an opportunity to be creative and sell unique items to entice your following. Merchandise can include t-shirts, mugs, hats, and more, and it's a great way for subscribers to show their support for your streams.
5. Accept virtual currency
Users can also send streamers Twitch Bits for their content, which can help you make some extra money alongside other methods. With Bits, users can show their support for content creators. Twitch affiliates and Twitch partners receive $0.01 for every Bit used directly on their channel.
6. Collect donations
Many streamers make money by encouraging their Twitch followers to support their streams by donating money. You can add buttons for Paypal or a third-party app such as Streamlabs to your channel to accept donations and ask viewers to do so every time you do a live stream.
7. Twitch Subscriptions
Twitch subscriptions are one of the best ways to offer viewers value while also building out recurring income every month. With a subscription, users pay a set amount every month to watch you play games or produce other types of content. You can add additional benefits for subscribers to entice them, including ad-free viewing, exclusive chat rooms, and other types of perks to keep them engaged.
8. Create exclusive offers
To keep people interested and earn money regularly, you can create exclusive offers and giveaways by working with brands. You can sell games at a discount for an extremely limited amount of time or create other offers and merchandise giveaways to build your following and increase your subscribers.
Claiming your Bits on Twitch
Getting paid from Twitch is not as simple as it should be. Rather than just withdrawing money as you make it, Twitch has a convoluted system that keeps your money for 15 days before paying it out. It used to be 60 days, so some things have improved, but it is still more complicated than it should be.
You don't 'claim' your Bits in Twitch; they get collected and paid out regularly for you. Twitch Affiliate, as one type of earning option gets called, requires $100 in earnings before the user receives a payout. When you don't make that much in the earlier days of your Twitch Affiliate account, your monthly payments get rolled over (month to month) until you hit $100. Then, 15 days after that point, you get paid.
The system is called Net-15 and succeeds Net-45, which took 45 days to pay you, which replaced the original 60-day payment term. Twitch's payment system is getting better, but when banks and other payment systems can perform immediate payments, it is still prolonged.
Twitch supports payments via bank transfer, PayPal, wire transfer, eCheck, and check. Exact payment methods depend on where you live. There is also a payment cost, and it isn't cheap. Twitch guides on fees and payments provide more information if interested.
In closing, Twitch Bits are a great way for viewers to support their favorite streamers and an excellent inducement for streamers to maintain quality and consistency. It's a feedback loop that actually works. Alongside other ways to earn on the platform, Bits add a little extra spending money to your life with minimal effort, especially if you play games anyways!
Tags