Creating A Low Cost DIY Fire Pit
One thing is for sure, the fire pit always made an evening seem more than magical. And that is exactly why when we moved to the new farm this year, building one became a top priority. In fact, it was one of the very first projects we completed.
Building a fire pit really can be both simple and inexpensive. The secret to success starts by employing a few basic fire pit building techniques that make it both strong, beautiful and functional. Then, by using natural and locally available materials, you can give it an incredible look that also happens to be quite economical.
Both of our fire pits were constructed for under $175 using the same process. In fact, our newest fire pit was actually built for under $50! Here is a step by step look at how we created our fire pit, along with a few tips on the best way to keep your project affordable.
Using The Earth As Your Friend – How To Build A DIY Fire Pit
The first key to building a functional fire pit is to keep it slightly below the soil line. Burying the pit a bit under the ground has several big advantages when creating and maintaining a fire.
First, it helps to keep your fire pit safe by preventing the embers of a burning fire from jumping out. It also helps keep the wind from becoming too much of an issue. Both when starting, and for keeping smoke out eyes.
But by burying your fire pit into the earth, it also helps to insulate it. That means a bit slower burn of the wood, and more even heat across the fire. That is not only great for sitting around the flames, but also for cooking as well.
Creating A Template For Your Fire Pit – How To Build A DIY Fire Pit
We created our circular fire pit layout using a 36″ piece of string tied to a round rebar post. We began by driving the rebar post into the ground where we wanted the exact center of the fire pit to be.
Using a spray can, we then marked out a perfect circle by spray painting a line on the ground as we walked with the string around the post. It makes quick work of what can be a difficult task for measuring an exact circle.
Once the lines were marked, we removed 16 inches of the soil inside of the line. By using a 36″ string, we ended up with a hole that was 72 inches in diameter, and 16 inches deep all the way around.
The 72″ diameter may sound large, but stone will be going inside of this to form the fire pit circle. It also allows enough space as you will see later for our cooking bar base to go in. Of course, you can create your circumference any size you wish. Just keep in mind you will lose some space as you stack the stone to form the circle.
The Cooking Bar Install
This is a purely optional step. But we can tell you, if you plan on cooking over your fire, this is far easier and cheaper than purchasing costly triangle supports. If you want more information on this step and process, we do have a complete article on the cooking bar here : (See : DIY Cooking Bar Project)
In a nutshell, the cooking bar is created with 1″ common black iron threaded iron pipe. This can be found at any hardware store, and creates a strong, sturdy cooking bar.
Using two 90 degree angle threads, we create a "U" shaped bar. The bar then slides down into two slightly 1.25″ larger pipes dug into the ground.
The cooking bar can easily be removed when not in use, and a threaded cover cap can be screwed to cover up the pipes in the pit. It is also extremely easy to use ready made outdoor cooking grates over with the fire pit as well.
We use a Hikeman folding grill in our fire pit to cook hamburgers, chicken, steaks and more. It simply sits within the fire pit on fold out legs and makes cooking anything a breeze! Product Link : Hikeman Folding Grill Top
Creating The Base – How To Build A DIY Fire Pit
A strong base is a key to a sturdy, long lasting fire pit. Especially one that will use stacked stone to create its walls. For our base, we use inexpensive limestone screenings. They can usually be found at a quarry, or small gravel or sand lot locations as well.
At around $7 to $10 a ton, a small pick-up load usually runs around $4. Some places will even allow you to take the screenings in 5 gallon buckets for about $1 per bucket.
Screenings are made up of small bits of limestone and the dust from the limestone rock. The limestone screenings pack down strong and give a firm, level base for a fire pit.
A four inch base of limestone screenings at the bottom of a fire pit are more than enough to create a great base for the stone layers on top. And it still leaves the pit depth at around 12″ down into the soil.
Building The Stone Wall
With the base complete, we began building the stacked stone wall. Although you can purchase rock at a stone center, it can be unbelievably expensive. One of the best ways to save is to purchase your rock at a local quarry instead.
For our first fire pit, we used rip-rap mixed size rock found at a nearby quarry. At around $20 per ton, we were able to get all of the rock we needed for around $80.
For our new fire pit, we were even more fortunate. When the crews were digging for our septic and water tanks, they unearthed tons of rocks. Mary and I quickly went to work snatching them up, and were able to build the new fire pit entirely from rock from the farm – and absolutely free!
The point is, however you, find your rock, there are better options that purchasing palletized stone. With a little leg work and creativity, you can save big for sure. Even old brick or broken concrete can look great with its jagged edges.
The Building Process – How Top Build A DIY Fire Pit
Building a stacked stone fire pit is all about being patient and working slow. We presorted through the rock, setting out the largest stones for the base. From there, we built up with the remaining rocks. We set aside the flattest of the rocks to create the top of the pit.
The key is to set one course at time. Try several rocks in different places, and with patience, you will find rocks that fit perfectly together. Work slowly and make it fun. The beauty of stacking dry stone is it is easy to fix and change. It also makes it nice if a rock is ever damaged to simply put a new one in its place.
Finishing The DIY Fire Pit
For the sitting area around our fire pit, we used limestone screenings again, and then covered with inexpensive pea gravel. It not only looks great, but drains well after any rain.
First, we sprayed the sitting area with high strength vinegar to kill off the grass. Next, we put down a two to three inch layer of limestone screenings to form a strong, hard base.
Once we had a level and firm base, we followed with a 2 inch top coat of #8 pea gravel. We have used this combination of a limestone screening base / pea gravel top coat with great results to inexpensively build walkways as well. It looks great and lasts forever!
The limestone screenings form a near concrete-like base, and can be applied right over the existing soil to level it out and create the walkway.
It's fast, easy and long-lasting. It is also easy to keep completely free of weeds with a few applications of vinegar spray a year. In square footage cost, it runs right around .5 to .10 per square foot to use, and that's hard to beat!
Here is to creating your own amazing DIY fire pit in your backyard! Happy building – Jim and Mary.
As always, feel free to email us at thefarm@owgarden.com with comments, questions, or to simply say hello! You can sign up for our free email list in the subscribe now box in the middle of this article. Follow us on Facebook here : OWG Facebook. This article may contain affiliate links.
Video
Upcycle a Beer Keg
It probably doesn't sound pretty retooling a beer keg into a fire pit, but it can be. It depends on your skills and how much time you want to invest in this project. As long as you know how to use a welder, an angle grinder, circular saw, drill, or Dremel, you can cut down these steel receptacles (either vertically or horizontally) and add vent holes. Also, stainless steel beer kegs can be sanded and polished to a mirror finish: you only need time and a little bit of elbow grease to class up these simple containers.
Project details
Skill
1 out of 5 Easy While building the patio is manageable, splitting massive granite blocks takes time and moving them requires heavy equipment.
STEP 1: Call 811 Before You Dig
Did you know that before you dig anywhere on your property, you should call 811 in order to have someone come and mark on your property where your buried utility lines are??
Yep!
It doesn't matter if you're installing a mailbox…planting trees or shrubs…or installing a fire pit. You should definitely call to be safe. They'll come to your property and mark the location of your utilities. If you don't mark your utilities and you cut your utility lines, guess who gets stuck with a fine? Oh yes, you are, my friend!
They usually come pretty quickly. And since you're building the fire pit in the backyard, it's unlikely (but not impossible) for the utility lines to run through your backyard. But don't assume. You know what they say about people who make assumptions. 😉
Here's a little tip: Snap a picture of where the utilities have been marked and save it. You'll be able to reference it later.
STEP 4: Mark Your Fire Pit Seating Area and Path
Usually, fire pit seating areas have a path that leads "to" and "from." Not always, unless you're just creating a circle fire pit seating around the fire pit. But if you've got a patio or deck, you may want to create a walkway leading to the fire pit seating area.
The biggest challenge will be: KEEPING IT STRAIGHT! You don't want any "wonky walkway" that looks like a novice DIYers got their hands on it.
I love walkways that have some curve to them when the fire pit seating area is off-set. In my case, the fire pit was directly in front of the patio, so there was no need to get all fancy. I just needed a straight walkway leading to the fire pit seating area. To keep it straight, I simply used a board measuring about 36″ long as a gauge of how wide my fire pit walkway would be.
Last year when I put in the fire pit by itself with no defined walkway or seating area, I simply set the stones in place and dug around the stones to mark where the fire pit was going to be placed. I used a shovel along the edges to mark the grass where the stones would be sitting.
Then I moved them out of the way and started digging a little deeper to define that DIY fire pit circle location where the fire pit will site. Note: If you're only putting in a DIY fire pit, then you can simply start digging and follow the other directions for a DIY fire pit. But if you're putting in a seating area as well, then you'll just need to mark the location of your fire pit bricks because you have a bit of marking left to do.
How to Measure a Perfect Circle Fire Pit Seating Area
The easiest way to create a perfect circle around your fire pit is to put a stake in the center of the fire pit and attach a string to it, going around the circumference so that all your measurements from the center of the fire pit would be perfect.
In my case, I didn't have a stake or a string, so I simply measured 5'5″ from the edge of the fire pit bricks and marked the length with spray paint.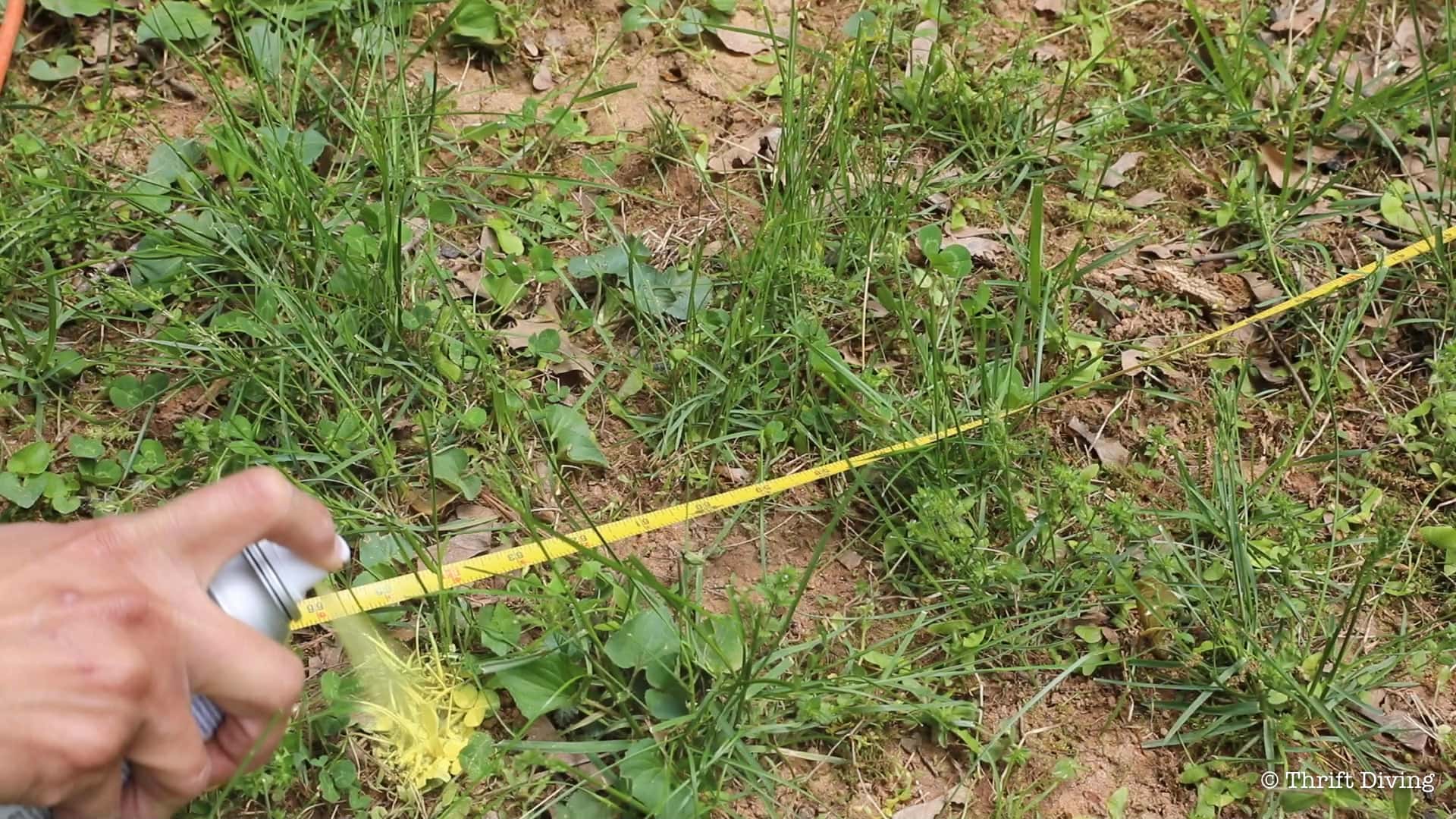 Before Digging, Call Utility Companies
Before digging out the space for your in-ground fire pit, call your utility companies (dial 811; for more info, go to call811.com) to check the location of buried utility lines.
Also, check the fire pit code in your area. Most require a fire pit to be 25 ft. away from any structures and overhanging trees. Think about how the prevailing winds blow through your backyard.
Materials Required
120 face bricks
25 firebricks
36 in. cardboard concrete form
48 in. cardboard concrete form (or for less money substitute a 4×8 sheet of hardboard to make both forms)
Five 80-lb. bags of Type N mortar mix
One half-gallon bucket of refractory cement (sold at a brickyard)
Ten 80-lb. bags of concrete mix
Two 10 ft. lengths of 3/8-in. rebar
Build Your Paver Patio
Once you've confirmed you have everything you need, you're ready to start building your paver patio. While this can be a single-person job, it is quite labor-intensive. Having at least one helper will make the work go much faster.
Step 1: Mark Your Patio Space
Begin by determining where you'll lay your paver patio. Many homeowners prefer to place their patios directly off the back of their home or along the side. This will allow for easy access from your back or side door.
Next, decide on the size and dimensions of your patio. Once you're happy with your decision, use a tape measure and marking spray paint to mark off the work area.
Step 2: Excavate the Area
Next, remove the grass and weeds from inside the area you've marked. Make sure you dig deep enough. A general rule of thumb is to allow four inches for your paver base and one inch for the paver sand in addition to the depth of your pavers. For example, if you're using a 3-inch paver, you'll want to dig down 8 inches.
If you're laying a small to medium-sized paver patio, you should be able to do this by hand with a shovel. For a larger patio, consider renting a gas-powered turf cutter. While this isn't necessary, it will significantly speed up the process.
Step 3: Lay and Level the Base
Once you've dug out the entire area, lay down approximately four inches of paver base. Use a rake to spread it out, making sure the surface is as even as possible. Then, use a hand tamper to tamp it down.
Next, add a layer of sand to help create a level surface. Tamp it down again to ensure it's even, then use a 2 x 4 to scrim the surface. Use a level to ensure the base is even. If not, tamp and scrim again until you're confident your base is as level as possible.
Step 4: Lay Your Pavers
Starting on the outside edge, begin laying down your pavers. If you're using decorative or multicolored pavers, decide on the pattern you'll follow before you begin placing them down. Work from one side to another, ensuring each paver is aligned with the previous one. Make sure to leave only small spaces between each paver.
Step 5: Fill with Sand
Finally, sprinkle paver sand over your new paver patio, using a broom to sweep it into the cracks. Once the spaces are filled with sand, wet the pavers with a garden hose. This will help them settle into place and reduce future weed growth.
Unconventional Fire Pit Shapes
Experiment with how you stack your bricks or rocks around the fire pit. You can raise up one side or one half or create a teardrop shape around a circular pit with all bricks tapering up to a point on one side. Playing with design can leave you with something that is pleasing to the eye while also acting effectively as a windbreaker, keeping the fire alive.
Tags