Option2: Harvest quality keywords in a matter of minutes
As I promised, here's the simple and short way to get as many great keywords as you wish.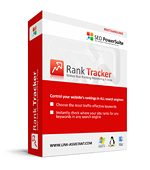 Rank Tracker
There's a tool called Rank Tracker that's great for working with keywords. The module I particularly like is keyword suggestion. Rank Tracker also checks website positions by keywords with a lot of details, to see how they change over time — and does much more. But we'll need that a little bit later. And right now, we'll need the keyword suggestion feature the most.
So here's where you find Rank Tracker:
http://www.seoinpractice.com/seo-software-bundle.html
You can trust the software I recommend here 100%, for I not only used it thousands of times. I truly took part in its development, consulting the Link-Assistant.Com team all way through. So these tools are also products of my SEO experience. Hundreds of SEO companies and thousands of individuals all over the globe use this software. Many of my clients do part of the job themselves, with the tools I recommend. And believe me, these development guys know how to keep all their users happy!
So here's how it works. First, download Rank Tracker and install it on your computer. What you'll do now is:
Get a long list of keywords at a couple of mouseclicks
Run the tool and click the New button to create a new project. Rank Tracker will ask you to enter a URL, so enter your site's URL.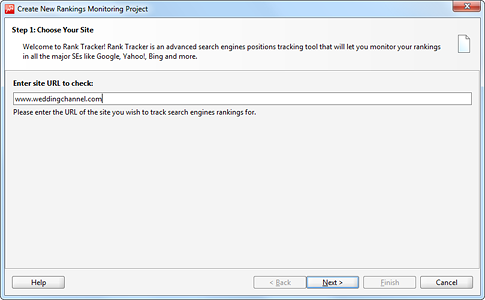 Enter your website's URL
Then choose Search Engines to apply (in fact, you can click any, say Yahoo! — it doesn't really matter for keyword research).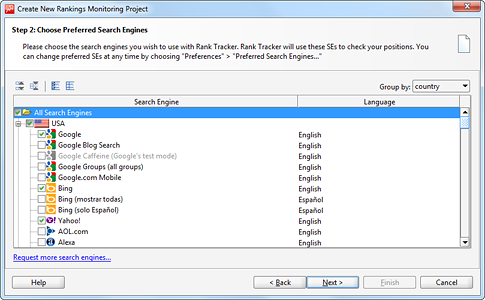 Select search engines
Now you need to enter a keyword to start with. Type in any keyword related to your business, like I typed in wedding ideas, and Rank Tracker will take a couple of seconds to check your site's ranking for that word (but I'll save talk about rankings for later).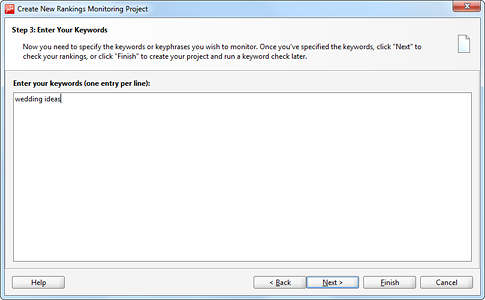 Enter your major keywords
What you need to do right now is: select your keyword and click the Suggest button in the Keywords tab.

You can enter a number of generic keywords related to your niche or business. Rank Tracker will use these terms to give you keyword suggestions.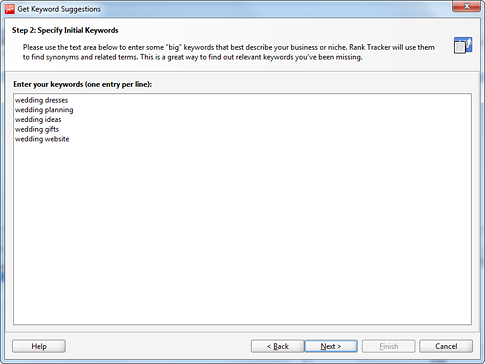 List of "big" initial keywords
The tool will ask you to choose a keyword research method. Choose Google Suggest, and after Rank Tracker stops searching (it can take a while, depending on the number of keywords you've entered and the speed of your Internet connection), you can choose any of the keyword suggestions it offers. (I'd recommend you to select all suggested words now. And later Rank Tracker will let you easily single out the best-quality keywords.)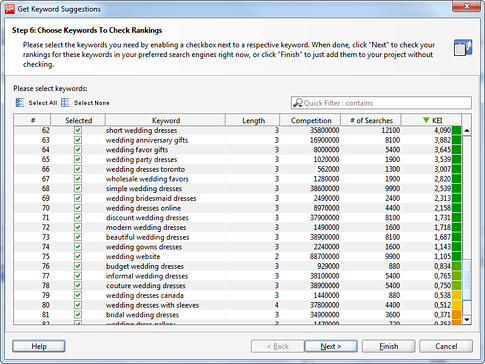 List of suggested keywords
As soon as you make your decision and click Finish, you will see the keywords you chose in the Keywords tab.
Now, repeat the same procedure choosing Wordtracker, Yahoo! Search Assist and Ask TypeAhead Search Suggestions.
Your keyword list is getting longer, yeah?
Now let's
Spy a bit on your competitors
A great thing is to find out what keywords your competition is using (really useful, you know, as you can copy their strategy and improve on it!)
Use the Competition Research option for that.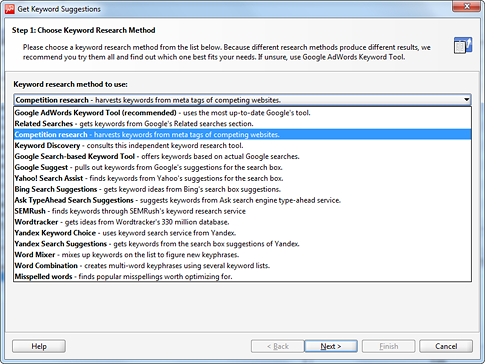 Various keyword research methods
Localize the search
Now let's add some regionally-marked keywords to your list. You've probably read above, it's sometimes very useful to localize your keywords, as people often search for products or services exactly in their own area. So here's what you need to do now: select some keywords from the list you already have (hold Shift or Ctrl buttons for multiple choice), then click the Suggest button of Rank Tracker and choose the Word Combination option. After that on the left you will see the list of keywords you've just selected.
Now your task is to add regional names to your list. Say, if you sell footwear in Michigan and Illinois, type in the names of these two states in the right-hand field. Then click to proceed and after a few seconds you'll have a list of fairly good regionally marked keywords.
Broaden your keyword list
Now I guess, you've gone through the Rank Tracker options and made a massive keyword list. But Rank Tracker still has to do some work for you.
Believe me, you still can add to the great keyword list you already have. Look at the keywords and choose the ones that are thematically most relevant to what you offer. Select these terms (hold the Shift or Ctrl buttons for multiple choice), and hit the Suggest button once again.
Now, if you repeat the procedures for finding keyword suggestions, you'll add more straight-to-the-point keyphrases to you list. Thus you'll have enough reasonably precise search terms to choose from.
DO IT NOW! Make a massive list of keywords and keyphrases for your website in Rank Tracker, and copy them all into a column in a spreadsheet (ex. Excel).
---
So what do we have at the moment? A huge list of keywords, all you could find. Well, you must be proud, thinking how big it is. Now here's the confusing but funny thing: you won't need most of this list! The time's come to think of keyword' quality. As a next step, we'll shortlist your keyword suggestions.
Category: SEO In Practice