4.10 Ways to get links
As I already said, there are ways to get links. And though new trends pop up in Search Engine marketing, as in any other sphere (for instance link baiting and viral marketing — we'll talk about this later), still thousands of webmasters and SEOs use the old good way to grow their site's ranking — link exchange.
That's the simplest and quick way to get hundreds and thousands of inbound links. If there're many of these links and they come from good quality partners, they're able to push rankings high — and you'll see this with your own eyes!
You think we SEOs are like kids — giving one thing in exchange for another? Yeah, I know, just like our kids exchange soccer cards or like when I was 6 or 7, I gave a silver button to Billy, a boy that lived next door, to get his bow and arrows. By the way, Bill now owns an online betting — and guess who helped him get it to Google's top 10?
My son Mike (the big economy mind of the family:)) asks me quite often — why not just buy links? Hey guy, I say — it's easy to pay — and you think Google doesn't know this? The real value here can't be traded.
So come on, join our childish SEO games and see how they will bring you very adult money.
Link exchange is easy to understand and simple to do: you ask someone to put a link to your site somewhere on their pages, and they ask you to put a link from your page to their site, or some site other than yours. There're several patterns of link exchange. Let's look at the most common of them.
One-way linking
Your linking partner A only links to you (B), and you're not connected through any other links. This kind of links is the most reliable, and they're trusted a lot by Search Engines. Later in this book, I'll tell you why.
One-way links're not that easy to get. There're places, though: directories, forums, blogs, and other social media. But let's save this for later.

One-way linking pattern
Reciprocal two-way links
Simple: you've got website A, and your partner has website B. You both have got pages of considerably the same quality, so it's equally beneficial for both of you to link to each other. So a page of site A has a link to a page of site B, and a page of site B has a link to a page of site A.

Reciprocal linking pattern
Sometimes Search Engines frown on reciprocal links — they suspect that you really got a link like this in exchange. What happens if a Search Engine sees a two-way link? There're two options:
Option 1: Nothing happens. Google sees that you and your link partner have reasons to put links to each other, as your sites' topics are relevant: for instance, you sell garden equipment and your partner offers garden plants.
Option 2: Search Engines ignore both links. Still that's not really much to worry about. You're still getting visitors through this link. And, as sites may have hundreds of reciprocal links, it won't spoil you rankings much if a couple of them are ignored.
There are also some schemes that don't look suspicious to search engines but also, they are harder to organize. Here're some of them.
Three-way links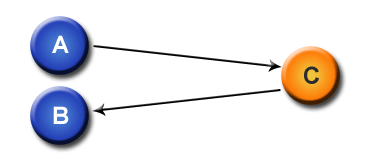 Three-way linking pattern
Sites A and B belong to Joe, and C belongs to Betty, and they agree to link to each other this way: A links to C and C links to B. This way, Joe promotes his site B thanks to his another site A, and practically gets a one-way link from Betty's site C.
Or — I have site A, Joe has B, and Betty C. Joe and Betty don't know each other, and I know both. So I say Betty, I'll link to you if you link to Joe. And I tell Joe that Betty will link to him if he links to me. This way, each of us gets a suspicion-free one-way link.
Four- way links
Soon after we got married with Linda, her cousin married my elder sister. I'd call it four-way linking: a representative of the Richmonds (that's me) tied the wedding knot to a Mayes (that's Linda). In return, one of the male Mayeses (Linda's cousin, also Dan) won the heart of a shy Richmond girl (who was my sister Tanya).
If that were about websites, this would look like this: the Richmonds own sites A and B, and the Mayeses have C and D. It's called 4-way linking when Richmonds link from their A site to the Mayeses' C site, and the Mayeses put a link on their site D that leads to the Richmonds' site B.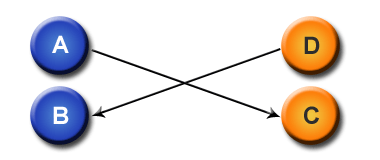 Four-way linking pattern
Links ring
Four sites A, B, C and D form a so-called link ring. Well my sweet family can't demonstrate this case — so I'll pit it simple: site A links to site B, B to C, C to D and D to A.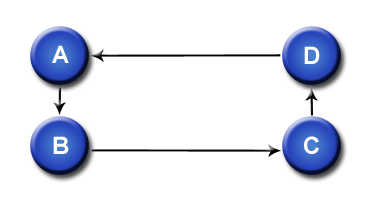 Links ring
One-way linking looks most natural to Search Engines — as this way sites often get links for good contents. And you already know that this is what Search Engines like. So if you have lots of one-way links, Search Engines will believe that many other sites link to you because your site has something very interesting to offer — and not because you're optimizing it.
Still reciprocal links remain one of the most popular ways to get backlinks. Most SEOs rely on reciprocal link-building to increase websites' rankings, for many reasons. First of all, reciprocal links are the easier of all to get. Many sites are eager to exchange links, while not many are generous to put one-way links to you. Plus, Google won't frown much upon good thematically relevant reciprocal links.
We already had similar examples (like those with the vegetarians). If you sell cats food and exchange links with a company that imports power plant equipment, these links will look suspicious to Search Engines. But if you put a link from your cat food web page to a dog food site — you must be fine.
So reciprocal links can also be different. And good thematically relevant reciprocal links can be powerful to increase your ranking, especially if your site doesn't rank very well right now. And, like most SEOs, while promoting your site, you'll also resort to reciprocal linking very often.
For Search Engines it's harder to discover 3-and 4-way linking schemes and links rings. So they look very much like one-way links to Search Engines, and can have the same value. But sure, you'll see they take more time to get.
Category: SEO In Practice